Simmered Cabbage with Beef, Shan Style (Galaam Oop)
Finally reached the best dish I made this week (and honestly in quite a while). It was so good I almost ate it all before the family had a chance to try any.
My version followed the recipe with one minor addition, which accidentally is probably what made it so delicious: I didn't feel it had enough beef so I've thrown in one HEB sausages. That just took it to the next level.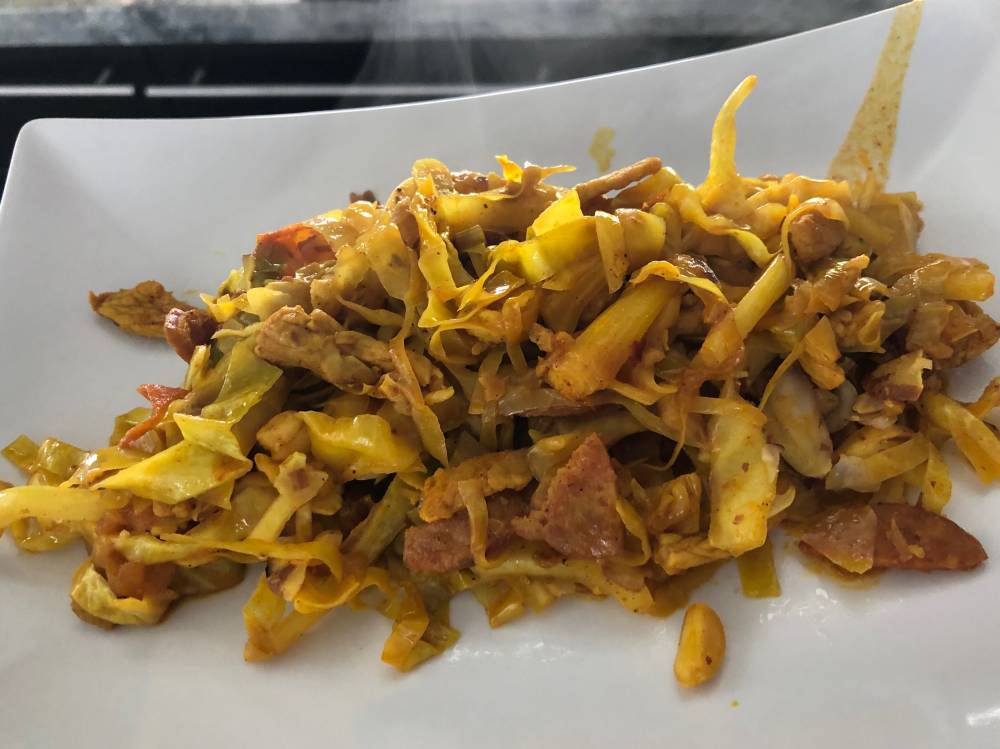 This recipe comes from northern Thailand from the Shan people of Myanmar, who use the slow simmering method of cooking – oop – with a very small amount of water and oil, allowing for the water within the ingredients themselves to contribute and release the flavors.
Recipe
Takes about 30-40 minutes to make and while not overly involved, some stirring is involved.
Ingredients
2 tablespoons peanut oil
1 cup thinly vertically sliced shallots
1 teaspoon salt
1 teaspoon turmeric
1/2 teaspoon ground red pepper
1/4 pound ground sirloin
4 cups finely shredded cabbage (about 1 small head)
1 cup thin plum tomato wedges (I used regular Roma tomatoes)
1/3 cup coarsely chopped unsalted, dry-roasted peanuts
fresh cilantro leaves
Preparation
Heat a wok (you need a lid) or Dutch oven over medium heat.
Add peanut oil to pan and swirl to coat.
Add shallots, salt, turmeric, and red pepper; cook 3 minutes or until shallots are tender, stirring frequently.
Add beef, cook 2 minutes or until beef begins to brown.
Add cabbage and tomato; toss well to combine.
Reduce heat to medium-low; cover and cook 10 minutes or until cabbage wilts.
Stir in peanuts cover and cook 10 minutes or until cabbage is tender.
Serve with cilantro leaves.
Serves 4 (serving size: 1 cup)
calories: 238;
fat 15.9g (sat 3.2g, mono 7.4g, poly 4.3g);
protein: 10.9g;
carbs: 15.7g;
fiber: 3.4g;
cholesterol: 180mg;
iron: 21mg; sodium: 628mg; calcium: 59mg.