Cycle 3 - South America - Peruvian Sarsa Salad
This is one of the more surprising salads I had. It's full of fiber, filling and the lemon juice makes it always feel fresh.
A common condiment in Peru sara is a salsa or relish of chopped fresh onions, herbs, and citrus juice. Some versions include tomatoes. Some toss in radishes. As long as the the base of the relish remains crisp and puckery, you can add what you like. This version from chef Douglas Rodriguez is a fuller salad including lima beans hominy and Farmer's cheese.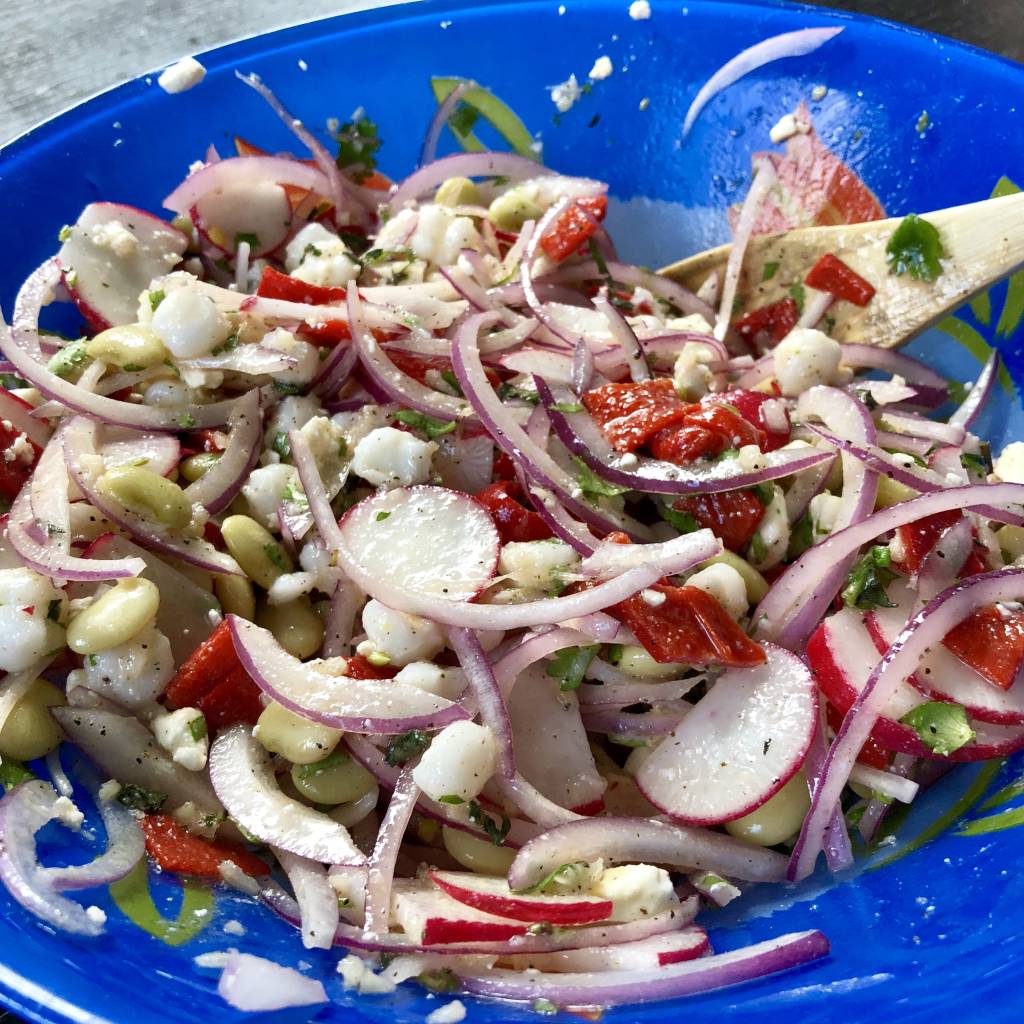 Recipe
Serves 6 (really more like 4 if served as a side, 2 if served as a full meal).
Takes about 10-15 minutes to make.
Ingredients
1 cup thinly sliced red onion
1/2 cup sliced radishes
1/2 cup frozen lima beans, thawed
1/2 cup canned white hominy, drained
1 ounce crumbled farmer's cheese or feta cheese (about 1/4 cup)
1/4 cup chopped bottled roasted red bell peppers
2 tablespoons chopped fresh mint
2 tablespoons chopped fresh cilantro
3 tablespoons fresh lemon juice
1 tablespoon olive oil
1/4 teaspoon salt
1/4 teaspoon freshly ground black pepper
3 garlic cloves, minced
Preparation
Combine first 8 ingredients in a large bowl.
Combine lemon juice and remaining ingredients in a small bowl, stirring with a whisk.
Drizzle dressing over salad, and toss gently to combine.
Nutritional information
Calories 77;
Fat (sat 1.1g, mono 1.9g, poly 0.3g);
Protein 2.6g, Carbs 9.5g, Fiber 1.3g, Cholesterol 4mg;
Iron 0.8mg; Sodium 198mg; calc 44mg