Mesir Wat - Spicy Red Lentil Stew
Mesir Wat is a dish hailing from Ethiopia. Wat is a stew of curry and there are several variations, some which include meats (Doro Wat has chicken).
What they all have in common is the Berbere spice mix, which typically includes chili peppers, garlic, ginger, coriander, fenugreek, and allspice and which is a key ingredient in the cuisines of not just Ethiopia but Eritrea as well.
The version I used is Frontier's Berbere Seasoning.
My Wat is vegetarian - Mesir Wat, with lentils, and it was absolutely delicious.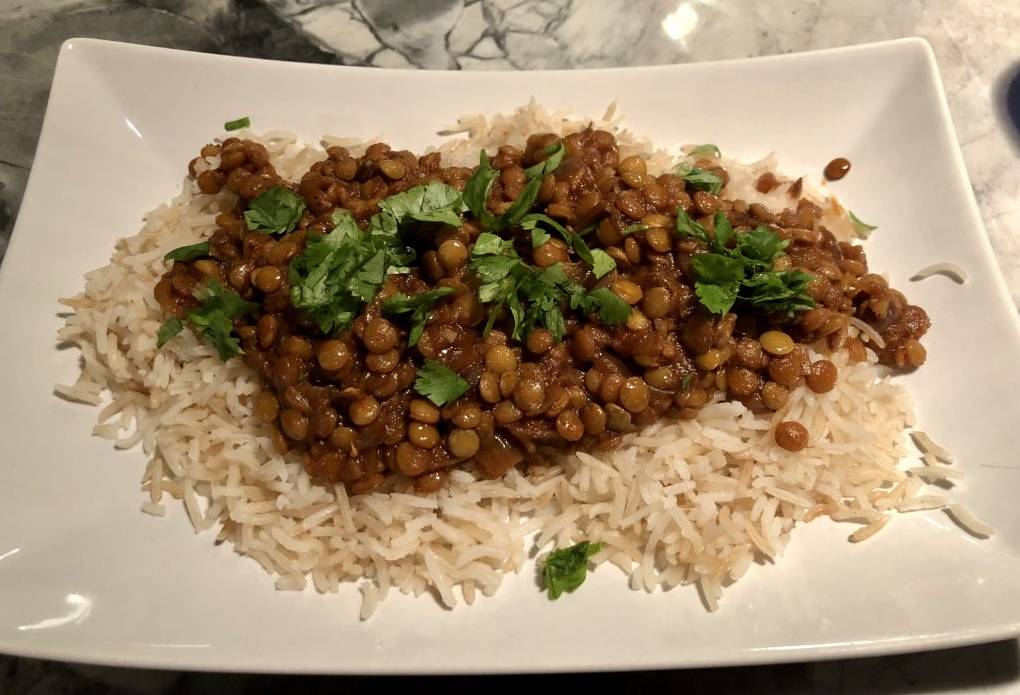 Notes:
Definitely a remake, although I would love to make my own version of the Berbere mix; I felt the Frontier's version, though it may be authentic, was too spicy - I would like more of the other flavors in the mix to come through.
Recipe
Hands-on time: 22 min; total time: 1 hr 10 min.
Ingredients:
2 teaspoons canola oil
2 cups chopped red onion
1 tablespoon minced peeled fresh ginger
3 garlic cloves, minced
3 tablespoons tomato paste
11/2 tablespoons berbere spice
3 cups organic vegetable broth
1 cup dried small red lentils
1/4 teaspoon salt
1/4 cup finely chopped fresh cilantro
4 cups hot cooked Basmati rice
Heat a large Dutch oven over medium heat. Add oil; swirl to coat. Add onion to pan; cook 15 minutes or until tender, stirring occasionally. Add ginger and garlic; cook 5 minutes, stirring frequently. Stir in tomato paste and berbere spice; fresh ginger cook 1 minute, stirring to combine. Gradually add broth, stirring with a whisk until blended. Increase heat to medium-high; bring to a simmer.
Rinse lentils until cold water; drain. Add lentils to broth mixture; simmer, partially covered, 35 minutes or until lentils are tender, stirring occasionally. Stir in salt. Sprinkle with cilantro; serve over rice.
Serves 4 (serving size: 1 cup lentils and 1 cup rice)
Calories: 454
Fat 3.9g (Sat 0.3g, Mono 1g, Poly 1g);
Protein 19g;
Cholesterol 0mg;
Carbs 85.53;
Fiber 9.53
Iron 5.1mg; Sodium 867mg; Calcium 43mg.