Lamb Kofta
A little out of band because this technically falls under Middle-East and Africa cycle, but I had some left-over ground lamb from the Greek Baked Ziti and this recipe looked simple.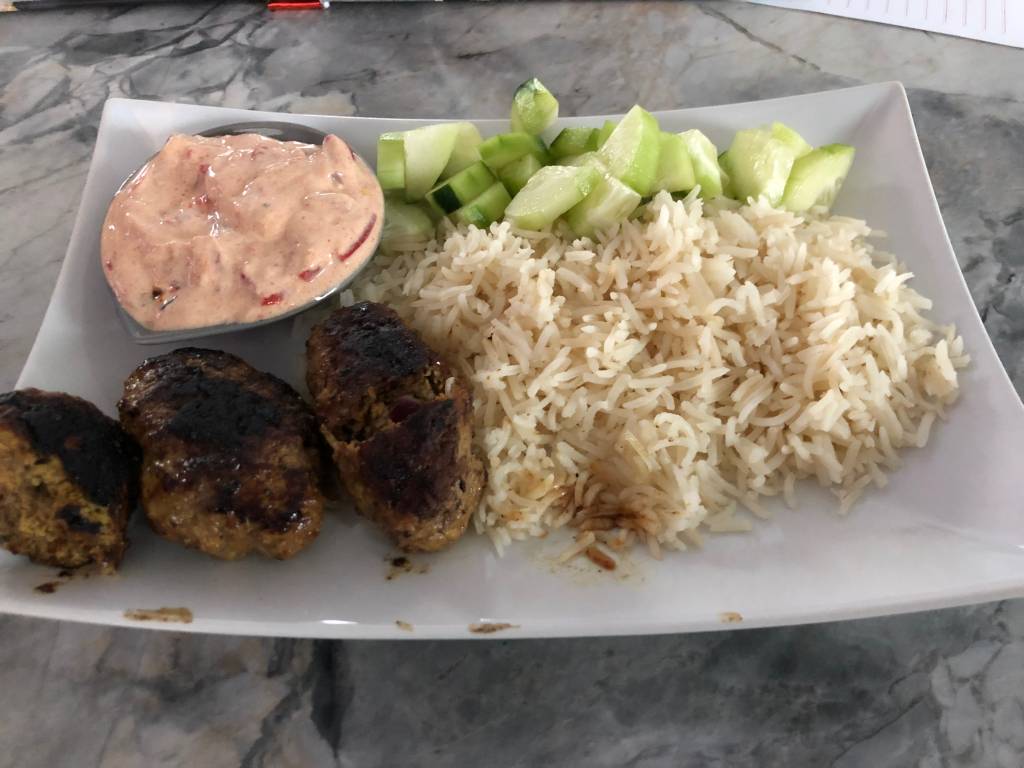 Recipe
Serves about 4. Takes about 20-30 minutes to prepare
Ingredients
1 (31/2-ounce) bag boil-in-bag jasmine rice
1 teaspoon saffron threads
2 tablespoons thinly sliced green onions
2 tablespoons minced fresh cilantro
2 tablespoons grated fresh onion
2 tablespoons 2% Greek-style plain yogurt
1 teaspoon ground cumin
1 teaspoon ground coriander
1 teaspoon turmeric
2 teaspoons bottled minced garlic
1/2 teaspoon salt
1/4 teaspoon freshly ground black pepper
1 pound lean ground lamb
Cooking spray
1/2 cup 2% Greek-style plain yogurt
1/4 cup chopped bottled roasted red bell pepper
1 teaspoon ground cumin
I teaspoon ground coriander
2 teaspoons bottled minced garlic
1/2 teaspoon crushed red pepper
1/4 teaspoon salt
Preparation
Cook boil-in-bag jasmine rice and saffron in boiling water according to package directions. Drain; fluff rice with a fork. Sprinkle with green onions.
While rice cooks, combine cilantro and next 9 ingredients (through lamb); shape into 12 oblong patties (use a little less than a quarter cup of the mix for each patty).
Heat a large nonstick skillet over medium-high heat. Coat pan with cooking spray. Add patties to pan; cook 10 minutes or until done, turning occasionally to brown on all sides.
While kofta cooks, combine 1/2 cup yogurt and remaining ingredients. (or use Harissa mix)
Serve sauce with kofta and rice. Serves 4 (serving size: 3 patties, about 1/4 cup sauce, and about 1/3 cup rice)
Nutritional information:
Calories 344;
Fat 16.3g (sat 6.9g, mono 6.4g, poly l.lg);
Protein 24.83
Carbs 24.43 Fiber 0.83 Cholesterol 77mg;
Iron 2.9mg; Sodium 563mg; Calcium 72mg
Notes
I didn't use all lamb. I mixed half a pound of ground lamb and half a pound of ground beef; I don't know if that had any effect on the final result.
I still am trying to master cooking meat. I was so afraid of it being uncooked, that I think I cooked it too much. The patties ended up dry - very dry. I'm not sure I know how to best gauge when they're done, but it didn't feel as if the 10 minutes mentioned in the recipe were enough.
You could and definitely should make the sauce with the ingredients they specify. Or you could do what I did and use pre-made Harissa mix.
It wasn't a huge hit with the family even if they were hungry that night.