Baked Empanadas - Attempt Number One
An empanada is a fried (more delicious) or baked (healthier?) bread of pastry stuffed with a savoury filling.
In one shape or another, they are present all over the work:
In India they are called samosas;
In Bangladesh they're called shingara;
Maldivians call them bajiyaa;
In Indonesia they are known as pastel and pasteis in Brazil;
They are called sambusak in Israel;
chamuças in Portugal and in the Goa province of India;
samboosa throughout the Horn of Africa and towards the southern side.
I'd argue that the Italian calzone and even the Greek spanakopita are in the same family, if not quite the same.
My recipe, from Cooking Light Global Kitchen: The World's Most Delicious Food Made Easy of course, called for sweet potatoes and black beans empanadas, but I soon found with a rebellion on my hands as the tribe demanded meat and some of the members didn't like sweet potatoes.
What we ended up with is half the empanadas half-filled with regular potato and beans and half with the planned sweet potato and beans.
It was a lot of work.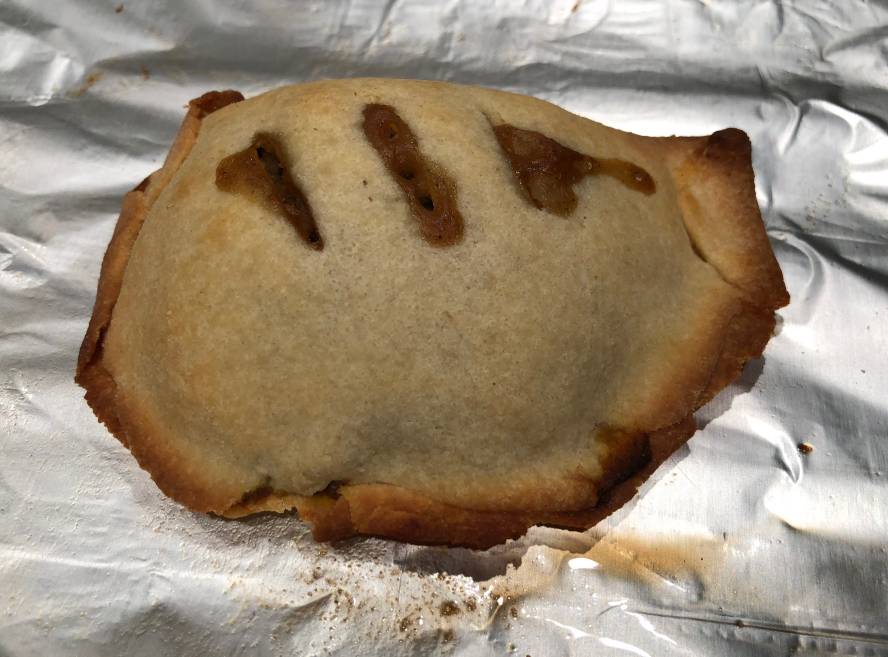 Recipe
This is not an easy to make recipe. It takes quite a lot in preparation, which is almost continuous throughout the making of it.
I cannot even imagine what the fried ones are like.
Ingredients
9 ounces all-purpose flour (about 2 cups)
3/4 teaspoon kosher salt
1/3 cup canola oil
1/4 cup cold water
1 tablespoon cider vinegar
1 large egg, lightly beaten
1 poblano Chile
1 tablespoon cumin seeds
1 cup mashed cooked sweet potatoes
1 cup canned black beans, rinsed and drained
1/3 cup chopped green onions
2 tablespoons chopped fresh cilantro
1 teaspoon ancho Chile powder
1/2 teaspoon kosher salt
1 egg white, lightly beaten
Cooking spray
Preparation
Weigh or lightly spoon flour into dry measuring cups, and level with a knife.
Combine flour and 3/4 teaspoon salt in a large bowl, stirring with a whisk.
Combine canola oil, 1/4 cup cold water, vinegar, and egg in a medium bowl.
Gradually add oil mixture to flour mixture, stirring just until moist.
Knead lightly until smooth.
Shape dough into a ball, and wrap in plastic wrap. Chill 1 hour.
Preheat broiler.
Place Chile on a foil-lined baking sheet;
broil 8 minutes or until blackened, turning after 6 minutes.
Place in a paper bag; close tightly.
Let stand 15 minutes.
Peel Chile; cut in half lengthwise.
Discard seeds and membranes; finely chop.
Preheat oven to 400F (I would do this in step 4 - the following took me quite a while).
Cook cumin seeds in a large saucepan over medium heat 1 minute or until toasted, stirring constantly.
Place cumin in a clean spice grinder; process until ground.
Combine cumin, poblano, sweet potatoes, and next 5 ingredients (through 1/2 teaspoon salt) in a large bowl;
mash with a fork until almost smooth.
Divide dough into 10 equal portions, shaping each into a ball.
Roll each dough portion into a 5-inch circle on a lightly floured surface.
Working with 1 portion at a time (cover remaining dough to keep from drying), spoon 3 tablespoons poblano mixture into center of each circle.
Moisten edges of dough with egg white; fold dough over filling.
Press edges together to seal.
Place on a large baking sheet coated with cooking spray.
Cut 3 diagonal slits across top of each empanada.
Bake at 400F for 16 minutes or until lightly browned.
Serves 10 (serving size: 1 empanada). Good luck eating only one!
Nutritional info:
Calories 209;
Fat 8.4g (Sat 0.7g, Mono 5g, Poly 2.3g);
Protein 5.1g;
Carbs 29g;
Fiber 2.9g;
Cholesterol 18mg;
Iron 2.3mg; Sodium 359mg; Calcium 32mg; Sodium 359mg; Calcium 32mg.