Ecuadorian Potato and Cheese Patties (Llapingachos Ecuatorianos)
Llapingachos are cheese-stuffed fried potato cakes/patties that originated in Ecuador.
They are similar to arepas - a Colombian specialty - and they are quite easy to make all while being a delicious dish.
While they are usually served with peanut sauce, they can be just as well accompanied by chorizo, onion and tomato salad (pickled onions in particular), avocado slices, or aji criollo aka Ecuadorian hot sauce.
The version I made was served with a simple cubed tomato and julienne onion salad, with a bit of jalapenos thrown in to combat the sweetness of the potatoes and cheese.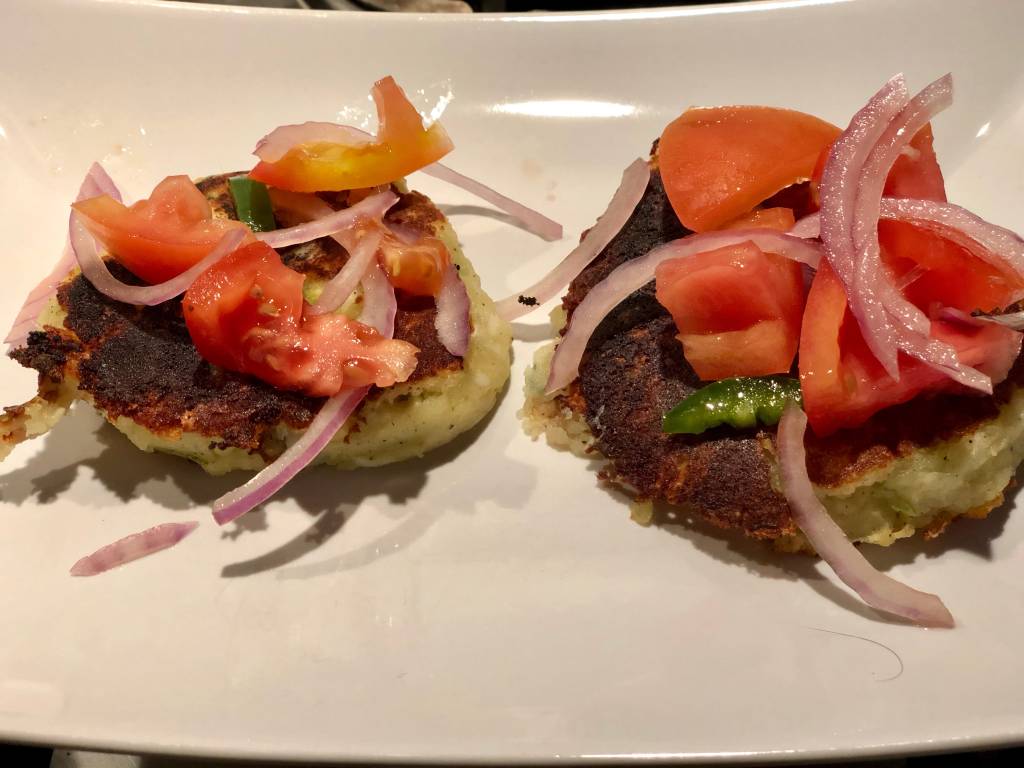 After making it I see it as a basic for continuous improvements and I already have a couple of these "improvements" in mind:
adding crumbled bacon
using both regular and purple potatoes in the making
adding various spices (curry?! OMG!!)
adding other vegetables - maybe zucchini?
definitely trying it with peanut sauce and with aji criollo
Recipe
The recipe comes from the Cooking Light Global Kitchen: The World's Most Delicious Food Made Easy book, but I also would recommend Laylita's version which mentions adding a fried egg.
Serves 6 (barely 4 if you have other things on the table).
Supposedly takes about 20 minutes on hands-on time, total 65.
It took me about 30 - these numbers must come from either skilled chefs or somebody who's done all the cutting and measuring before hand. I think mashing the potatoes alone took me 10 minutes.
Ingredients
1 3/4 teaspoons kosher salt, divided
2 medium baking potatoes (about 11/4 pounds), peeled and quartered
11/2 ounces shredded queso fresco or Monterey Jack cheese (about 6 tablespoons)
2 tablespoons minced green onions
1/4 teaspoon freshly ground black pepper
1 tablespoon olive oil
3/4 cup diced tomato
1/2 cup julienne-cut red onion
Preparation
Place 1 1/2 teaspoons salt and potatoes in a saucepan, and cover with water.
Bring to a boil; reduce heat, and simmer 15 minutes or until tender.
Drain, and mash with a potato masher until smooth.
Cool.
Add cheese, green onions, remaining 1/4 teaspoon salt, and pepper to potato mixture, stirring well.
Divide potato mixture into 6 balls (about 1/2 cup per ball).
Flatten balls into h-inch-thick patties (about 3-inch diameter).
Place on a baking sheet; cover and refrigerate 20 minutes or until firm.
Heat large nonstick skillet over medium heat.
Add oil to pan; swirl to coat. (don't - just do it without oil in a *hot non-stick pan or griddle because it helps maintain the integrity of the patty*) Place patties in pan; cook 5 minutes or until bottoms are browned.
Turn patties; cook 3 minutes.
Top patties with tomato and red onion.
Serves 6 (serving size: 1 patty, 2 tablespoons tomato, and 4 teaspoons red onion)
Nutritional information:
Calories 157;
Fat 4.6g (sat 1.8g, mono 1.3g, poly 1.2g);
Protein 4.23
Carbs 249g;
Fiber 2.1g;
Cholesterol 6mg;
Iron 0.6mg; Sodium 279mg; Calcium 64mg