Cucumber Mango Salad
Most of the salads I make are some sort of variations of things on top of lettuce. Not that I like lettuce much – it's just that it doesn't have many calories so it's a good filler.
I did make a few salads that were not lettuce-based:
All of which more or less I liked.
Time for another one, a bit of a sweet version.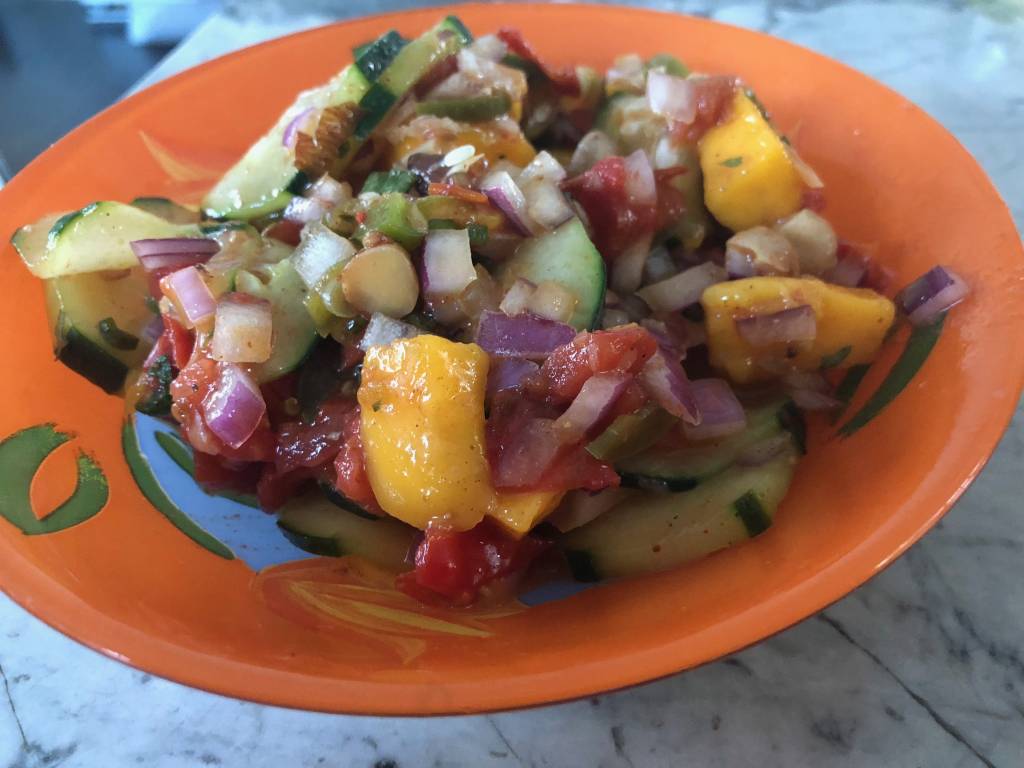 It's an interesting balance and maybe more of an acquired taste. I didn't love it and also didn't hate it.
The onion and mango make for an interesting interplay, while the cooked tomato counters the freshness of the mango.
Recipe
It takes about 30-35 minutes to make, most of it waiting for cooked ingredients to cool down.
The ingredients below serve 6 assuming you serve it as a side to something. If by itself, I am not sure it works as the serving size is 2/3 cup - like who eats by the small measure?!
Ingredients
2 cups thinly sliced English cucumber (about 1 cucumber)
1 1/2 cups finely chopped red onion
1/2 teaspoon salt
1 garlic clove, minced
1 teaspoon peanut oil
2 cups chopped seeded tomato (about 1 pound)
3 tablespoons chopped unsalted, dry-roasted peanuts
1 tablespoon finely chopped seeded red jalapeöo pepper (about 1)
1 tablespoon finely chopped seeded green jalapeöo pepper (about 1)
1/4 teaspoon coriander seeds, crushed
1/4 teaspoon ground cumin
1/8 teaspoon ground red pepper
Dash of ground cinnamon
Dash of ground cloves
1 3/4 cups diced peeled ripe mango (about 1)
1 tablespoon chopped fresh cilantro
3 tablespoons fresh lime juice
Preparation
Combine first 4 ingredients in a colander; toss gently. Let stand at least 20 minutes.
Heat a large skillet over medium-high head.
Add oil to pan; swirl to coat.
Add tomato and next 8 ingredients (through ground cloves) to pan;
sauté 5 minutes or until tomato is tender.
Remove from heat; cool to room temperature (about 20 minutes).
Combine drained cucumber mixture, tomato mixture, and remaining ingredients in a medium bowl;
toss gently to combine.
Serves 6 (serving size: 2/3 cup)
calories 95;
fat 349 (sat 0.5g, mono 1.5g, poly 1.1mg);
protein 28g;
carb 15.9g;
fiber 2.9g;
cholesterol 0mg;
iron 0.7mg; sodium 204mg; calcium 31mg